Paul Tassell is the Junior Football Manager at Hartpury College. His blossoming junior career, in which he represented England Schools U18 as well as being in the youth setups at Oxford United, Wycombe Wanderers and Reading, was cut short by a car accident. Now, he is defining success, not through his own achievements, but what others under his leadership can achieve in themselves.

"Success looks like developing individuals into respectful, trusting, hardworking people," he says.

"Seeing them develop into adults with these qualities ensures they achieve on and off the pitch is what I judge success by.

"Winning national titles is a bi-product of the culture you have developed. It would not mean anything winning these titles if our players are not happy and didn't feel like the processes have been right."

The culture is one that Paul has been immersed in for years. After studying, and getting back into football following his accident, at the University of Gloucestershire studying Sport and Exercise Science, he continued his coaching development (having taken his first badge when he was 15) with a PGCE at Hartpury College.

"They were able to offer me the opportunity to develop academically and improve my career pathway in teaching and coaching," he continues.

"The culture created was the best I had been involved in. I see that as the most important aspect of a sporting environment.

"If the culture is wrong, you can have the best players but it doesn't guarantee success.

"Developing a culture where everyone takes responsibility, supports each other and enjoy themselves are key factors."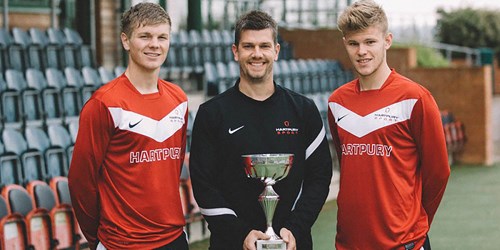 So that all comes from the man in charge right?
"We have set standards that are player led," Paul explains. "The players feel comfortable to express themselves."
"The players drive the standard which on occasion is more powerful than what I can do."
"Rejection is part and parcel of sport, especially football."
That is not to belittle the achievements and maturity that Paul has shown during his time at Hartpury.
Indeed, it is not just the players who develop in such a positive environment. Paul's fruitful foray into coaching has seen him take charge of Great Britain's Women's Futsal team and England Colleges Head Coach, with whom he won the National Play-Offs and Premier League.

He puts this down not only to his own perseverance and hard work, but the surroundings that enabled him to get the most out of himself.

"Key to my development was having a supporting environment where I was able to gain qualifications, varied experiences, be given responsibility to develop and feel safe to make my own decisions," Tassell says.

"To be surrounded by a wealth of knowledge and support was key as naturally early on you want to get input from others to see if you are making good decisions and how people do things differently."

Now, Paul is using his own experiences, good and bad, to influence others around him.

He recalls being rejected by a letter in the post from a club when he was younger and encourages any young player that has suffered the disappointment at being discarded by their team to evaluate the abundance of options available to them.

"Rejection is part and parcel of sport, especially football," says the 34-year-old.

"I felt angry the way clubs discarded me. There was no empathy.

"This has certainly had an impact on how I aim to treat the individuals I work with. Rejection is part of sport but how you manage it can make a huge difference.

"These are people and not numbers.

"Many focus on what people can't do whereas focusing on what they can do and excelling in these areas can be the difference."

Higher and further education has also made a big difference for Paul and countless players that have passed under his tutelage.

He encourages all young sportspeople to "look long term" and "embrace" the opportunity to continue their education, even if it maybe wasn't quite the professional career that they hoped for.

It turned out alright for Paul!

"At times of doubt, really think about how this can be setting you up for success in the rest of your life," Paul finishes.

"When you stop looking to learn, you stop developing and stand still.

"Challenge yourself to gain as much experience as you can. You can't really know yourself if you hinder your own development from just doing the minimum.

"Success in underpinned by hard work. There are no short cuts
"Winning national titles is a bi-product of the culture you have developed."