Switch the Play was set up in 2014 by a group of sport specialists and former sportspeople including the Olympic gymnast Beth Tweddle and former England and Leicester Tigers rugby union player, Leon Lloyd. In 2020 we gained charity status, allowing us to help more people than ever before. Our mission is to empower sportpeople to plan for and manage a successful transition to life outside of sport. Working with sports organisations and athletes we support, educate and develop sportspeople, during and after their sport career.
We're for the 'forgotten majority'
Whenever or however it happens, retirement from a life in sport can be difficult. We want to ensure that all sportspeople, irrespective of what they achieved in their sporting careers, are not forgotten and are supported in fulfilling their potential outside of sport. The fact that most sports careers are over by the time people hit their 30s makes retirement a worrying prospect for many and without preparation, life can be tough once those sporting days are over.
Why we are needed
There is a desperate need for a charity to support sportspeople to develop themselves both in and outside of sport. The facts speak for themselves:
Many former athletes report a loss of identity after retiring and struggle to move on in life
More than half of former professional sportspeople have had concerns about their mental or emotional wellbeing since retiring
One in two ex-players do not feel in control of their lives within two years of finishing their career
Just over half of those who played sport professionally reported financial difficulties in the five years after stopping playing
3 in 5 of those who feel they have an issue with their mental/emotional wellbeing do not seek help
71% of players retirement was out of their control (e.g. through injury, deselection, out of contract)
If you are dissatisfied with your transition to life outside of sport, then you are more likely to be unhappy with your current wellbeing than if you are satisfied with your transition
(sources: BBC State Of Sport investigation 2018, Professional Players Federation Initial Career Transition Research Findings 2018)
The Change Curve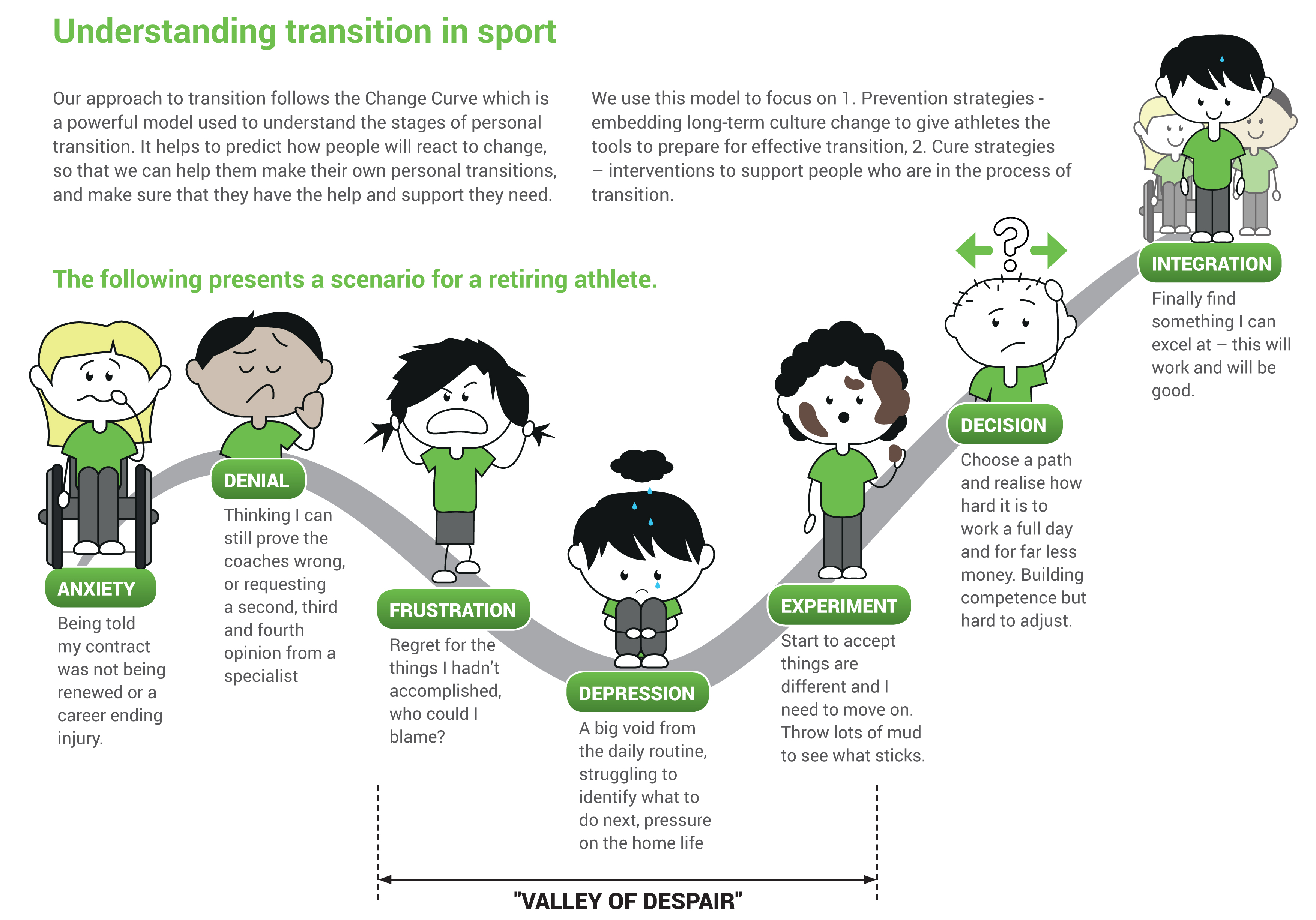 Our Values
At the Switch the Play Foundation, we are founded upon 5 key values: Excellence, Passion, Person-Centred, Collaboration and being Independent. These values embody what we do and why we do it. Since inception, the StP Foundation team have continued to strive to achieve the best results for sportspeople as they develop their life outside of sport.
It is through living our Team Code that helps us ensure our values are continuously referred to and met. As all athletes are competitive, there are 10 images that make up our Team Code listed below, for some light fun, what do you think they might mean? 
Rollercoaster
CAR - it's an acronym...
Checklist
Geese
Vince Lombardi
T-shirts
Stopwatch
The Banner
Magnifying Glass
People