Fundraising
Athlete Transition
Athletes
Cycling
Support
Donation
Completed! StP complete 100-mile cycle fundraiser
Posted on: 25 August 2020 by Luke Jennings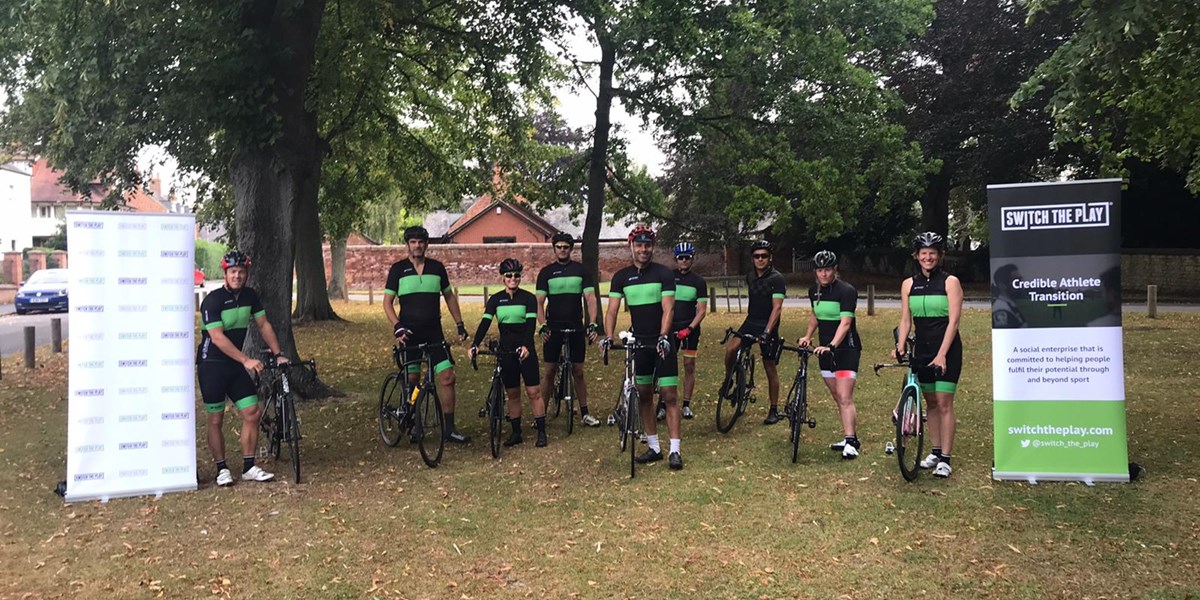 A group of current and former sportspeople completed a 100-mile cycle around the Leicestershire countryside in aid of the Switch the Play Foundation (StP) on 15th August 2020, supported by Prudential Ride London.
For the cycle, StP CEO Leon Lloyd and the StP team were joined by 2003 Rugby World Cup winners Martin Johnson CBE and Martin Corry MBE, Triathlon World Champion Kate Strong, Wasps Ladies Sarah 'Huddy' Mitchelson, Wasps and England Ladies legend Jane Leonard and Leicester Tigers, Gloucester and England Rugby player Anthony Allen. Unfortunately due to injury, international football player and now keynote speaker Paul McVeigh and Paralympic Gold Medallist David Smith MBE had to withdraw from the team due to injury. 
Starting in Great Bowden near Market Harborough, the team were challenged to cycle 100 miles to raise money for StP's new Transition Programme and Mental Health Support service. These new services come at a time where it is critical that all sportspeople are prepared to manage a transition to life outside of sport. Due to the Coronavirus pandemic, there is huge uncertainty about the futures of those competing in sport and as such, StP's services are more important than ever.
StP CEO Leon Lloyd praised the efforts of those completing the cycling fundraiser. "What a phenomenal achievement by a brilliant group of sportspeople. The whole charity sector has been hit really hard by the coronavirus pandemic, with fundraising events being postponed or cancelled. This ride gave us an opportunity to raise some awareness about the work we do whilst providing the public with a great opportunity to get involved as part of Prudential Ride London's virtual cycling. It also gave all of us a goal to focus in a difficult time and to achieve something special. We are so grateful to all those who have supported us so far and we are now excited to launch our new services in the coming months."
The event raised over £4000 for StP and this was achieved through the generous donations and fundraising efforts of lots of people. We are so grateful to those who donated and fundraised for StP and we are privileged to have such fantastic supporters of our charity.
If you'd like to know more about how to fundraise for StP, get in touch today by visiting our Contact Us page.