Fundraising
Events
Partnerships
FUNDRAISING MANAGER JOINS SWITCH THE PLAY
Posted on: 25 September 2020 by Luke Jennings
We are delighted to announce that we have appointed our first ever Fundraising Manager. Charlie Belbin joins the Switch the Play Foundation with responsibility for raising vital funds to support our work.
Charlie has over eight years' experience working across a range of fundraising disciplines in the third sector, including event management and new business development. He's worked for WaterAid, Restless Development, The Food Chain and SSAFA, the Armed Forces charity. Working for the latter, Charlie gained an understanding of the need to prepare for transition, in this case for armed forces personnel.
"When I saw Switch the Play was recruiting for a Fundraising Manager, I knew I had to seize the opportunity. For me, it was the ideal chance to secure a role which combines my enthusiasm for sport, fundraising experience and my knowledge and understanding of the transition space," said Charlie. "I want to build on all the fantastic things Switch the Play has already achieved, and acknowledge the hard work and generosity of our growing network by delivering great fundraising events, developing exciting new partnerships and creating even more opportunities to raise funds."
Leon Lloyd, CEO of Switch the Play, added: "Charlie joins us at an exciting time. Earlier this year, we gained charitable status, and as our first fundraising manager, Charlie will be responsible for shaping and implementing our fundraising strategy. The last few months have been very difficult for many sportspeople - cuts in funding, cancelled or delayed events and general uncertainty over the future. Fundraising will mean we can help more sportspeople successfully transition into a life outside sport."
Outside of work, Charlie is a keen runner and sports enthusiast. He is also a Charlton Athletic supporter and in 2019 fulfilled a lifelong dream of watching them play at Wembley, in the sold-out League One play-off final against Sunderland.
We welcome Charlie to the team.
Fundraise for us!
For all fundraising enquiries, contact Charlie: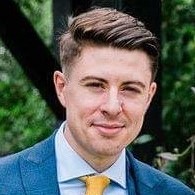 charlie.belbin@switchtheplay.com
 +44 (0)7719 109548