Press Release
Switch the Play
Switch the Play News
Half Turn
Isthmian League
Football
Isthmian League Names Switch the Play Foundation as Charity of the Year Partner, Unveiling 'Half Turn' Programme
Posted on: 10 August 2023 by Switch the Play Foundation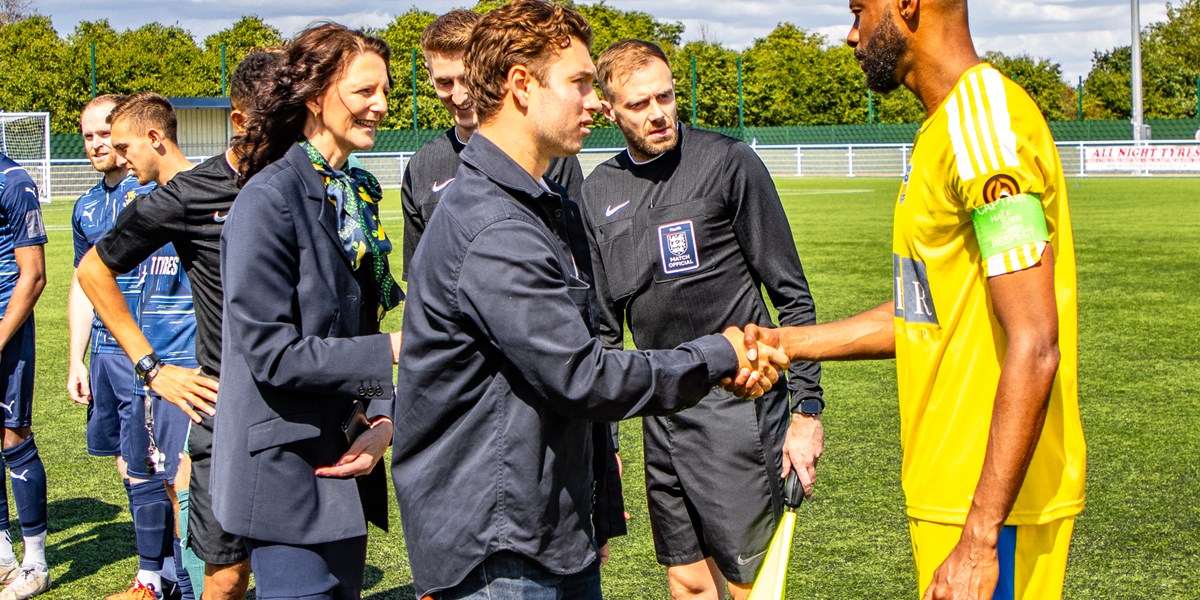 Sports charity Switch the Play Foundation is proud to announce a new partnership with the Isthmian League for the 23/24 season, which will include the launch and delivery of a new programme of support for Non-League footballers called 'Half Turn'.
In partnership with the Isthmian League, Switch the Play Foundation will deliver a new bespoke programme, 'Half Turn'. The brainchild of Project Creator and Lead, Maxwell Oldham, Half Turn aims to address the mental health challenges faced by footballers within the Non-League community that can have an impact on their performance on and off the pitch. By offering tailored support and resources, the service empowers individuals to enhance their resilience and maintain overall wellbeing as players and as individuals.
The Isthmian League's decision to partner with Switch the Play on Half Turn reflects a shared commitment to championing a collaborative approach to a duty of care to the players and promoting positive mental wellbeing within the football community. Half Turn will involve the clubs, the league and specialist support from people who understand sport. 
Maxwell Oldham said As a semi-professional player myself I have felt the many demands and pressures on my wellbeing and have suffered as a result both in my performances on the pitch and in life more broadly. It has been my long-term aim to create something that is sustainable and available to other players in the Non-League community offering advice, support and guidance. I'm grateful to the Isthmian League for helping us to bring Half Turn to life." 
"We are delighted and honoured to enter into this new partnership with the Isthmian League," said Rob Young, CEO of the Switch the Play Foundation. "Max is an inspirational person who has lived experience of the challenges of juggling the demands of football and a second job and, in creating Half Turn, we have an opportunity to make a positive difference to the wellbeing of Non-League footballers, to reach a wider audience and raise awareness about the importance of mental fitness and wellbeing in sport. Together with the Isthmian League, we are dedicated to driving positive change and providing valuable resources and support to Non-League footballers. We look forward to working with the League and Clubs ensuring support is there for every moment, not just the winning ones."
Throughout the season, the charity will collaborate closely with the clubs of the Isthmian League to deliver Half Turn and provide guidance and support, as well as, to promote mental fitness and wellbeing. The partnership will allow all players to access Switch the Play's emotional support helpline, online personal development platform and a host of other resources including masterclasses and sport psychology sessions. All of the services are geared towards helping men and women footballers to live healthier and more balanced lives off of the pitch and contribute to their performance on the pitch.
The League is delighted to be part of this partnership with the Foundation and to deliver Half Turn to our Clubs and Players. We have been looking for a vehicle to assist those who need support and we have been so impressed with our discussions with Max. I hope that this message gets out to our players. We want to help you when you need it." Nick Robinson, Chair, Isthmian Football League.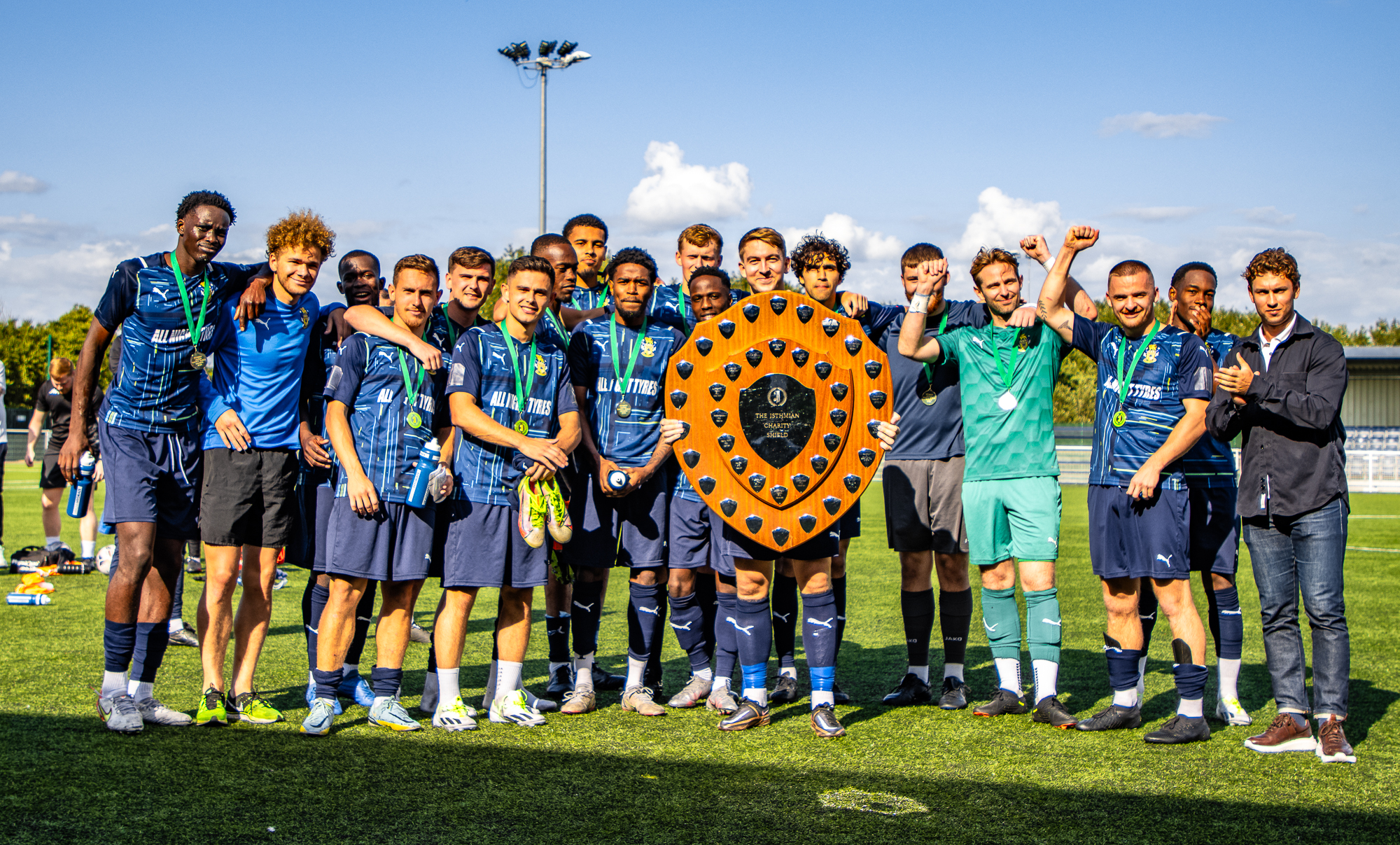 Isthmian Charity Shield winners Aveley FC pictured with, far right, Maxwell Oldham of Switch the Play Foundation
For media inquiries and further information about Half Turn and the Switch the Play Foundation, please contact: Claire Heath
Email: click here
Phone: 07719 109548
About Half Turn
Half Turn, powered by Switch the Play Foundation, is a programme designed to help non-league footballers manage their mental health and wellbeing - empowering them to live healthy and balanced lifestyles. Halfturn.com
About the Isthmian League:
The Isthmian League is a renowned regional football league comprising 83 clubs from Greater London, East and South East England. Making up steps 3-4 on the National League Pyramid. The League and their Member Clubs are committed to promoting equity and equality by treating all people fairly and with respect, by recognising that inequalities may exist, by taking steps to address them and providing access and opportunities for all members of their communities. The League focuses on positivity and aims to ensure that all our footballers are able to play in a safe, supportive and inclusive environment.
About the Switch the Play Foundation:
Switch the Play Foundation is the only UK charity dedicated to supporting the personal and professional development of sportspeople, enabling successful transition to life beyond sport. It supports hundreds of sportspeople each year and works across multiple sports including the football pyramid through Premier League Life Skills, WSL and League Football Education.