Partnerships
Personal Development
Football
Life Outside Sport
Switched On
New partnership supporting apprentice football players
Posted on: 17 May 2022 by Luke Jennings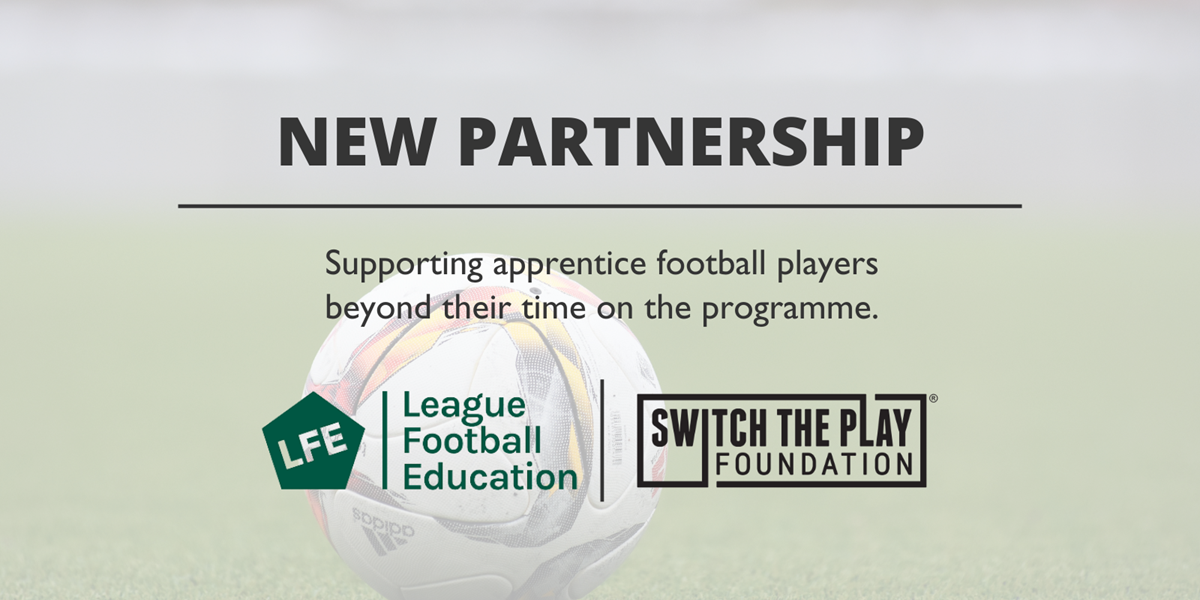 Switch the Play Foundation and League Football Education (LFE) are delighted to announce a partnership that will see apprentice football players supported beyond their time on the programme. LFE delivers the apprenticeship programme and life skills education across football clubs in the UK.  
This partnership will deliver a bespoke version of Switched On for players leaving the LFE pathway. Switched On is a personalised programme of support that incorporates one-to-one personal and professional development support, an online platform to interact and engage with resources, insights and guidance and a career pathways service to help a sportsperson explore a range of new and exciting careers. 
The person-centred support offered will enable players to better manage and prepare for their future, as well as effectively explore and develop their life outside of sport. This aligns with the aims of LFE who are delighted to be able to evolve their offer of personal and professional support to their players. 
Switch the Play Foundation are grateful for the support of LFE in making this possible. Anthony Cato, Transition Officer for LFE said, "It's exciting to now be partnered with an outstanding organisation in Switch the Play and for Switched On to be available for LFE apprentices. To have this level of support in helping LFE apprentices with the next steps of their personal and professional development can only be an extremely positive step in the right direction. I'd like to thank Rob, Luke and the Switch the Play Foundation team on behalf of League Football Education for their continued hard work and support."  
Rob Young, Switch the Play Foundation CEO said, "We are proud to partner with LFE, an organisation that are as passionate about the personal development and duty of care of sportspeople as we are. This is the culmination of months of planning, and I'd like to thank Simon, Anthony and the team at LFE for helping us make this a reality. We look forward to supporting the players achieve everything they can in and outside of football and are excited about where this collaboration will take us." 
For more information about LFE, visit their website.