Fundraising
Mental Health
Our End of Year appeal - and why it's needed
Posted on: 01 December 2020 by Switch the Play Foundation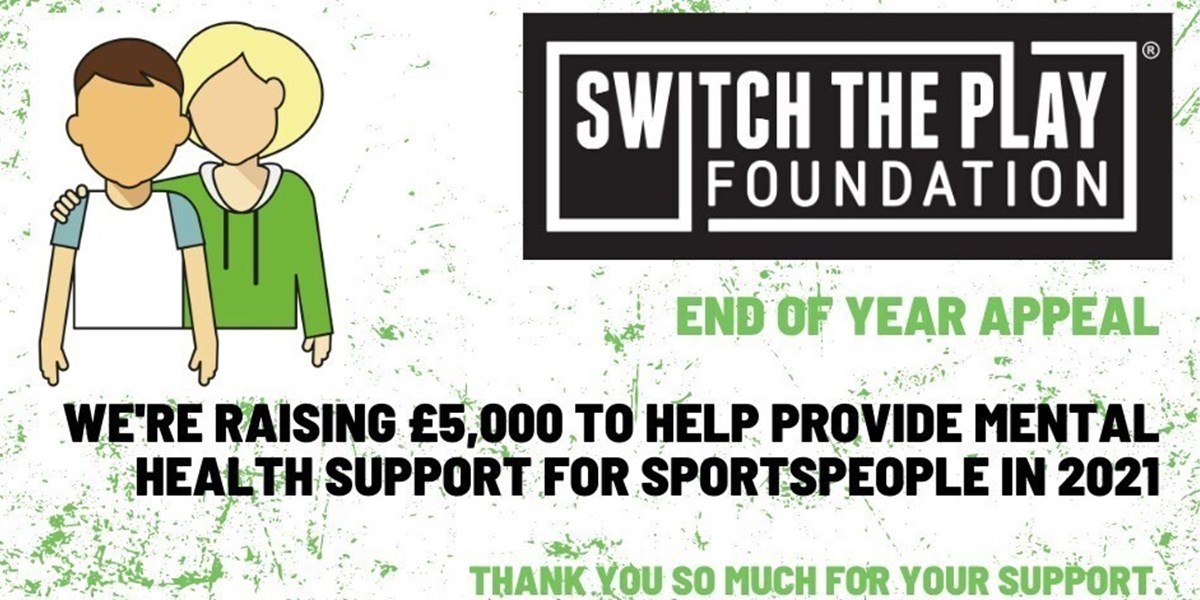 With your support this December, we are aiming to raise a minimum of £5,000 for Switch the Play Foundation.
£5,000 will cover the remaining cost of delivering our new Mental Health Support service for sportspeople.
Make a donation in support of our appeal, here.
Fundraising events that Switch the Play and our fantastic partners worked so hard to prepare for have been postponed, some indefinitely, because of COVID-19. These events were due to raise thousands of pounds in support of our work, including our Mental Health Support service.
On Giving Tuesday (1st December), we're launching our first ever fundraising appeal so we can ensure we will be there for sportspeople who are struggling with their mental health, not just now, but throughout 2021. Giving Tuesday offers the opportunity to #GiveBack2020 by either donating to charity, reaffirming commitment to a cause, volunteering time or supporting others by simply helping a friend, neighbour or family member.
We know 2020 has been really tough, for so many people. If you in a position where making a donation is possible, you can be assured that your contribution will help make a big difference.
Olivia Rae, Cricketer
Olivia is currently attending our Life Beyond Sport Bootcamp to help her prepare for her life outside of cricket.
"It's important that sportspeople are supported by organisations such as Switch the Play because in that transition period when you stop playing sport, you lose your routines, the team around you and the support that you've had – and the purpose that you've had.
"It can become quite a difficult, lonely, challenging place, and it can take a toll on your mental health."
How to access our mental health support service
We offer support for sportspeople and organisations. In a joint partnership between our trained Associates, Mental Health UK and DOCIAsport, our Mental Health Support service provides access to a masterclass and resources from Mental Health UK, plus a free, confidential advice line with experts in athlete support.
Find out more here.
Other ways to give this December
Has COVID-19 cancelled your staff Christmas party?
We love this idea from the Landmark Group to donate the unused cost of your Xmas party to a charity of your choice. Here is where you can make a donation to Switch the Play Foundation.

Thank you very much for your support. Here's to 2021 and what we hope is better year for everyone.