Social Impact
Social purpose
Athlete Transition
mental health
Partnership helping sportspeople to find their social purpose
Posted on: 22 March 2022 by Katie Scott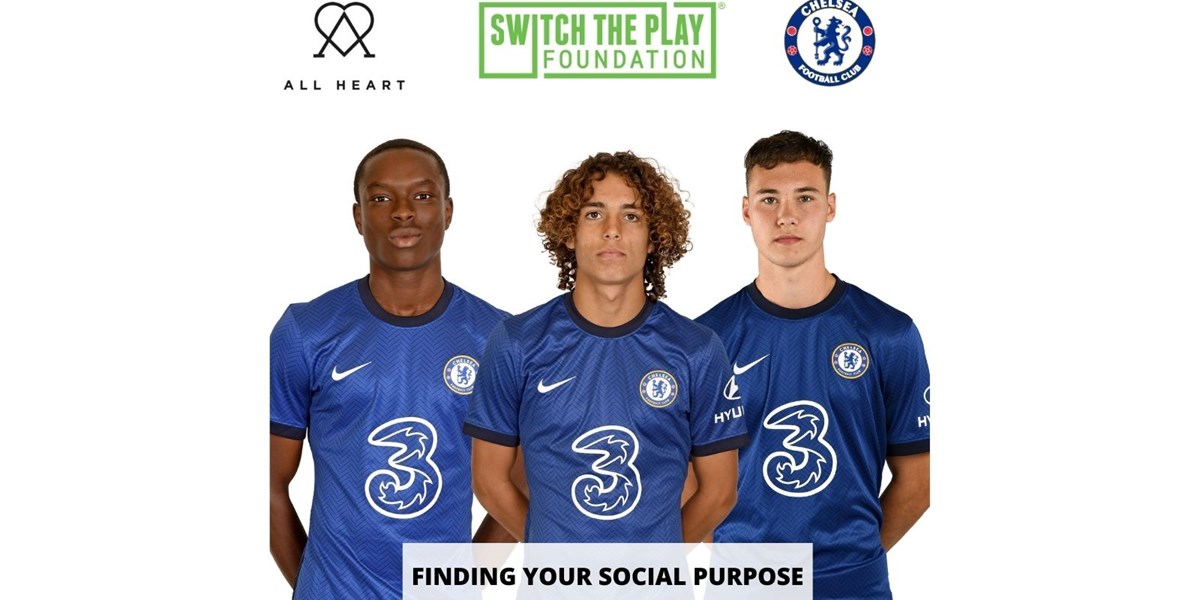 We are delighted to announce a partnership between Switch the Play Foundation and All Heart, a charity supporting athletes to use their influence for good.
Through this partnership we are supporting sportspeople to explore and deliver a social purpose. We have already delivered Brand of You with Social Purpose Life Skills sessions to Chelsea F.C. and West Bromwich Albion, to academy players aged 13 - 18. These sessions have provided opportunities for players to explore the causes closest to their hearts and the ways in which they could make a difference, as well as learning about the impact that doing charity work could have on them personally.
Following on from the session, 3 of the Chelsea F.C. players, Harvey, Charlie and Derrick, delivered a presentation to local schools during Children's Mental Health Week. This masterclass gave them the confidence to speak about the challenges they had faced in their football journeys. The work the players are doing in their community will help young people feel more able to speak about their mental health. 
''Without access to advice and guidance from Switch the Play Foundation and All Heart, these players would not have had the confidence or been inspired to deliver this session as part of Children's Mental Health Week. Thank you so much to Switch the Play for making this possible.'' Sean Walsh, Head of Post-16 Education, Chelsea F.C.
Rob Young, CEO Switch the Play says, "We are delighted to partner with All Heart. We have already seen some incredible tangible benefits of working with an organisation dedicated to helping people find a social purpose. I can't wait to see what we can achieve together as we work towards helping more sportspeople have amazing impacts across their communities."
Leanne Ayin, Founder and CEO All Heart says, "We have wanted for many years to educate players at a young age about the importance of understanding the social impact they can have, rather than thinking about this after they retired, as many players currently do. This opportunity to work with Switch the Play gives us the best possible opportunity to do this and hopefully, inspire more incredible community work to take place at the hands of young professional footballers."
We are looking forward to working together more in the future to further develop the positive impact on sportspeople and their communities. If you are an organisation interested in exploring social purpose support for sportspeople, please contact info@switchtheplay.com.
To find out more about All Heart, visit their website.
Images courtesy of Chelsea FC.