Mental Health
Partnerships
Talk to Us
Talk to Us Month
Posted on: 30 July 2021 by Mental Health UK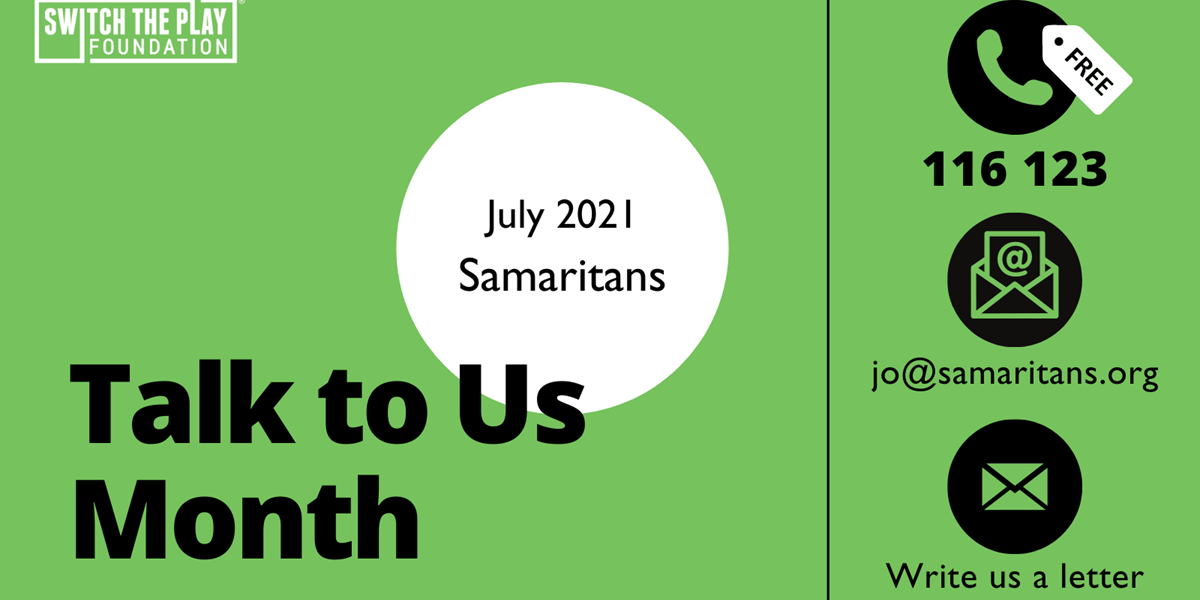 With the charity Samaritans leading the charge with their Talk to Us campaign, July is unsurprisingly all about talking. Talking and listening are incredibly powerful tools which can help you support loved ones, teammates, or family who may not be coping. Equally it can be an incredibly powerful tool for you getting the support you need.
In spite of all the great work that has been done in sport, sometimes opening up and talking about mental health can still be seen as a weakness but the benefits are vast and will not only help you off the pitch or court, but also in your competition and training. You can't be fully focussed on the task in hand if you are worrying about how you are feeling.
Talking about our mental health can have big benefits, including:
gaining a better understanding of our emotions,
breaking unhealthy or unhelpful patterns of thinking or behaviour,
helping us see a new perspective,
coping with stress and finding positive coping mechanisms, and
feeling empowered to ask for help.
More often than you might think, people who care about us like our coaches, our teammates, friends and family are usually happy to listen and support you. If you are the teammate, you might not know how to start a conversation with someone about their mental health or how they're feeling, but it can be something as simple as, "I can't believe this weather…". This can be an open door to talking about how someone is feeling. You could also adapt the following phrases to get a conversation going:
"I've noticed that…"
"How are you, really?"
"Do you want to go for a run?"
"I sense that you might not be having a good time at the moment. If you want to talk, I'm here to listen."
Time to Change ran a campaign called Ask Twice. This campaign shows the importance of following up, "How are you?" with, "Are you sure?". People often say "I'm fine" when they don't really mean it, as shown by the Mental Health Foundation. They might open up when asked twice.
If you find yourself in a position where someone wants to open up and talk to you, active listening gives a space for them to feel heard and understood.
Pay attention to the words someone uses, nonverbal gestures and body language,
Listen with the intention of understanding, not just to reply,
Be non-judgemental and showing the person you accept them as they are,
Be empathic or compassionate and showing it,
Be genuine about how you react, e.g., "I feel sad hearing you say…",
Avoid giving advice and bringing the conversation back to you e.g., "that reminds me of a time when I…", and
Ask questions that show you're interested in the important details.
So, if you talk to someone about how they're feeling, it helps to listen actively and think about how you might like to be heard if you were in a similar situation. Talking requires someone to listen, and there are organisations who have people trained to listen effectively and offer emotional support.
Switch the Play Foundation have established their specialist TEAMmate service that provides all sportspeople a safe place to talk to trained individuals and receive the emotional support that they need. You can find out more about this service here.
If you are unsure where to start, your GP, NGB or university if you are still studying will all be able to help and signpost to support. There are also great charities such as our partner Mental Health UK who can help signpost, and there is always the opportunity to access private therapists. As the famous proverb goes, "A problem shared is a problem halved" and could be the first step to getting you or a teammate the support you need.