Training Team Mintridge!
Posted on: 15 February 2020 by Switch the Play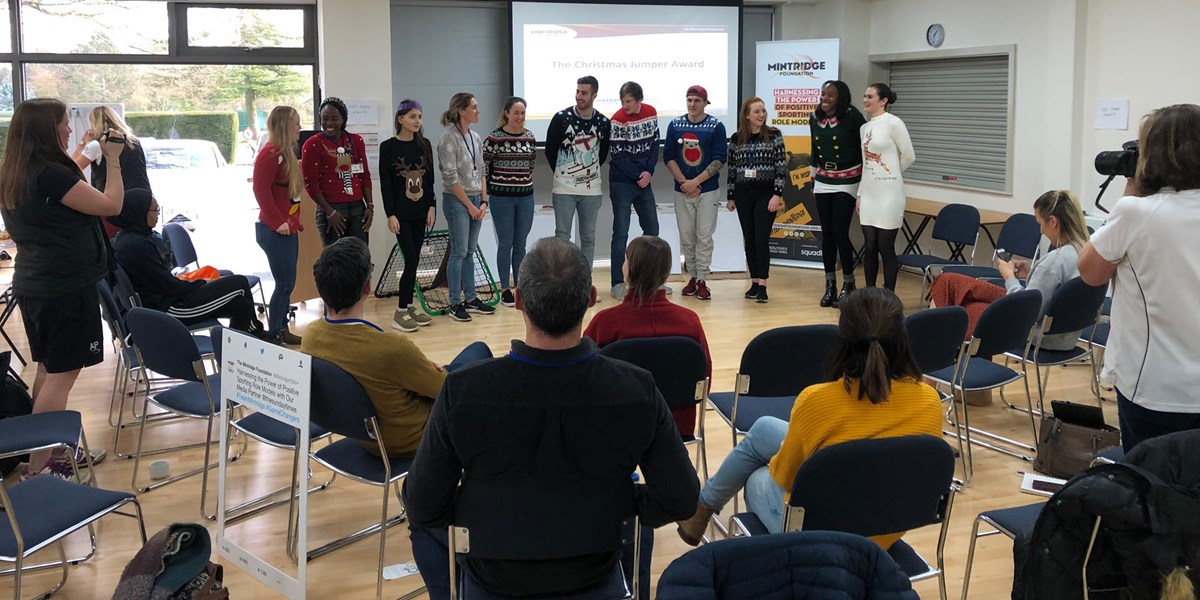 Switch the Play were involved in The Mintridge Foundation Ambassador training, talking all things Mental Health, Presentation Skills and Emotional Resilience.
In December 2019, Switch the Play teamed up with good friends and partners The Mintridge Foundation to support them with their Ambassador training. The Mintridge Foundation chose Witham Hall School in beautiful rural Lincolnshire as their training location and over two days Switch the Play delivered three masterclasses. With ambassadors from multiple sports and various backgrounds, Switch the Play were thrilled to work with such an engaged and diverse group of people.
First up on day one was a Mental Health and Well-Being masterclass with delivery partners B-Mindful. Switch the Play recognise the importance of using experts in their fields, so were thrilled to be able to partner mental health specialists B-Mindful in training the ambassadors in understanding their own and others mental health. In their roles, Mintridge ambassadors work with young people to enhance life skills through sport. Switch the Play and B-Mindful helped the ambassadors to recognise how to support someone if they are experiencing mental health problems and how to sign post effectively. They also reflected on their own experiences of transitions and talked about how they can use their own experiences to understand the young people they work with better. The masterclass finished with a short yoga session which left all of the ambassadors feeling refreshed and ready to tackle the second training day.
Day two was a packed day where ambassadors received training and information from a number of providers. Switch the Play delivered a morning masterclass centred around the topic of Presentation Skills. This was delivered by Switch the Play associate and BBC journalist Ben Croucher. Ben helped the ambassadors to explore some public speaking essentials as well as how to best deliver to different audiences. Through our training, the ambassadors became more comfortable telling their own stories, as well as understanding how to best engage the groups they will be delivering to.
To close of the training, Switch the Play associate and performance psychologist Stu Holliday delivered an Emotional Resilience masterclass. This is content that has been curated by Dr Jenn Gandhi and allowed ambassadors to learn more about challenges and threats and how this impacts the brain and our responses. They worked on developing their own personal resilience to thrive under pressure through a 'resilience recipe'. The ambassadors even found themselves stuck in some Chinese finger traps for a short period of the session! This highlighted their thoughts and feelings in a threat state.
Switch the Play thoroughly enjoyed being a training provider for The Mintridge Foundation. An intense couple of days for the ambassadors, but we are excited to see them putting the skills they have learnt into practise throughout 2020!
See a video testimonial from one of the ambassadors following the mental health masterclass here: