Skating Journey
Born and raised in the UK, Ellia enjoyed a range of sports from an early age. Roller skating and ice-skating parties were Ellia's favourites and she would always be very competitive amongst her friends. It wasn't until 2005 when Ellia and her family moved to the Netherlands to better understand their dual nationality, that Ellia was introduced to long track speed skating.
With eighteen 400m rinks and a huge number of Olympic medals, speed skating is hugely popular in the Netherlands. 
Ellia joined a local skating club at the age of 9 but was never selected for any of the talent or development teams, missing out on many opportunities to take her skating to the next level
"No one saw me as a talent so I had to decide if I wanted to stop or carry on and do it my own way, but I knew I had more to offer."
Ellia started training with a personal trainer who was specialised in speed skating and shortly after, was recognised by British Ice skating's long track wing. This enabled her to access improved sports facilities and training.
"I started skating times that allowed me to go to junior world cups, but I still didn't have a team"
Competing at the Junior World Cups was the first stepping-stone for Ellia's skating career, as teams started to notice her. Joining her first team in 2016 was a huge change and step-up from racing at club level. Even though Ellia had finally been selected for a team, she always felt the pressure to prove herself every time she competed.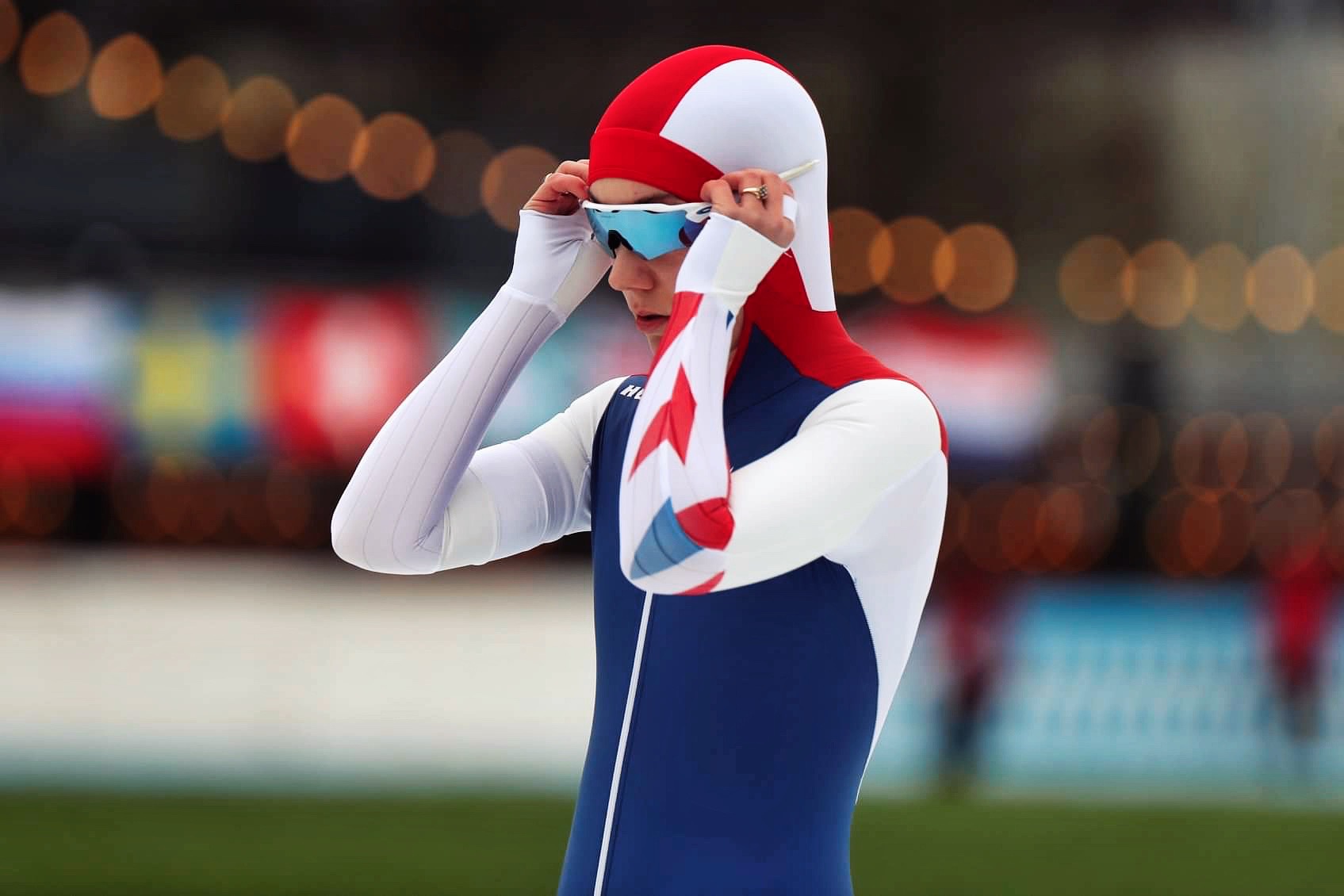 "I was afraid of making a fool of myself because no one had ever believed in me."
In 2017, Ellia joined a new team, and slowly started enjoying the competitive aspect of the sport again.
"It's only really been the last 2 years that I've felt good enough to compete against others. My confidence has increased and I've learnt to fight during races"
The 2019/2020 season was the break-through season for Ellia. She wasn't constantly questioning her abilities and others' opinions but focused her energy on competing. 
"I started working with a psychotherapist which increased my mental strength and confidence, I realised I was worthy of competing"
Ellia started winning medals at the U23 World cups and qualified for her first-ever (senior) European Championships where she came 14th on the 1000m in a new British record.
Dual-Nationality
The popularity of the sport in Holland means there is more opportunity, but also more competition.
"People often think I went for the easy option because I chose to represent Great Britain, but I still have to compete at the same level at the same competitions"
Due to lack of recognition of the sport in the UK, this has also led to Ellia having to fund her own journey.
Brew 22
Together with her teammate and boyfriend (Cornelius Kersten) Ellia decided to take matters into her own hands. Finding good coffee when competing abroad was becoming a challenge that Ellia, Cornelius and many athletes often faced.
But when Cornelius was in Japan for a Senior World Cup and came across 1-cup coffee filters, they came up with an idea.
"These 1-cup filters are really convenient. All you need is hot water and you have fresh, delicious coffee on the go, perfect for when you're abroad"
Setting up their own company would give them the flexibility to fund their own careers whilst also being able to prioritise training and their studies.
In 2019 Ellia and Cornelius successfully set-up their own company Brew '22, selling 1-cup coffee filters and coffee beans in 5 different flavours. Each coffee flavour representing different characteristics of athletes. 
The originality of the name refers to the 2022 Olympic Games and the slogan sounds; "your journey, your coffee".
"Not only is it coffee to go, the slogan also refers to choosing our own path and trusting your own journey"
In the future, Ellia and Cornelius would like to involve other athletes in the company, giving them the opportunity to fund their own journeys.
"Brew '22 was initially set up to fund our skating. But I want it to grow. I really believe in the product, the brand and the story. I'd love to eventually be able to help other athletes in the same position."
#LifeOutsideOfSport
Both Ellia and Cornelius are also studying part-time, but skating always remains the priority.
"This year has been amazing and my hard work is starting to paying off as I qualified for World Cups and won medals" 
But Ellia is also aware of the current circumstances and the commitments to get to the 2022 Games.
"My main goal for this season it to qualify for the World Championships which is at the Olympic venue. This means I'd be able to get to know the facility, but also gain more experience at such a high level."
Combining skating, a university degree and Brew '22 has not all been smooth sailing but Ellia is used to working hard and following her passion.
"The most important part is enjoying the ride, literally!"
If you'd like to know more about the coffee and Brew '22, or want to support Ellia on her journey to the 2022 Olympic games, visit www.brew22.com for more information!
Photos courtesy of Schaat Fotos