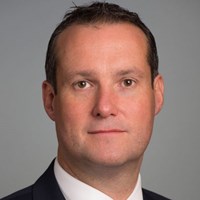 Craig Donaldson
Role
Chair of Trustees
Biography
As former CEO of Metro Bank, Craig Donaldson was responsible for providing executive leadership to the bank's rapidly expanding business. He was charged with guiding the bank's evolution from fresh, new entrant in retail banking to trusted financial services partner to millions of UK customers. From helping define Metro Bank's brand values, to hiring its inaugural employees and ensuring that the bank's staff deliver daily customer delight; Craig was instrumental to Metro Bank from day one, stepping down at the end of 2019 after almost 11 years. Craig has a degree in Technology and Management from the University of Bradford. Craig is a keen and loyal supporter of Sunderland AFC and is lucky enough to have a young family to enjoy.
Biography
Anna Edwards is Managing Partner at Elite Performance Partners, a performance and search specialist which provides consultancy, recruitment and coaching for sports organisations. Working with those in elite football, rugby, cricket and national governing bodies, she works across all levels from boardroom to performance leads and supporting teams. Studying for an MA in Coaching and Mentoring, she helps the Foundation to ensure we help all sportspeople thrive. 
Biography
With accolades including 'Britain's Best Boss', Chris is one of the UK's foremost leaders in business and sport. His success is a result of a unique set of experiences including working with Olympic athletes and using sport to inspire success within business. With a focus on high performance, creating winners and delivering change, he has worked extensively with academics from leading business schools as well as executives, managers and team leaders within global PLCs.
Biography
Emma is a former international badminton player turned sports lawyer and now a businesswoman with leadership positions in several international sport governing bodies. Emma's own career transition was forced upon her at 24 following complete failure of her left kidney. At that time, Emma was left wondering what her future held and uncertain how to rebuild her identity or who she could turn to for help. Emma is therefore acutely aware of the importance of athletes preparing for their transition and is delighted to have joined Switch the Play at a key point in its development.
Biography
Mitch has been with Switch the Play since 2014, and moved into a Trustee role when we converted to a charity in 2020. In our formative years, Mitch helped the organisation grow using StP as the organisation through which he completed consultancy projects with the Premier League, AoC Sport and BUCS. This included his leadership work in convening a group of experts to design and secure approval for the Level Sporting Excellence Professional Apprenticeship Standard which is delivered across professional sport academy environments. He has experience and networks across the sporting landscape working in and around talent pathways and player welfare for over 15 years. Mitch has a portfolio of interests including another charitable trustee role with the Coach Core Foundation; Board and NED roles with Sport for Confidence, Propel Teams, Transcend Awards and Karalius Education; and works in the people development space through his Sporting People brand where he supports organisations to take a modern and ambitious approach to leadership, governance and coaching.
Biography
Stacey Francis-Bayman has been on the international netball scene since she made her debut for the Vitality Roses in 2010. With 73 caps to her name, she has also won two Vitality Netball World Cup bronze medals as well as another bronze at the Commonwealth Games in 2010. Stacey has been a part of every Team Bath Superleague title-winning side (2006, 2007, 2009, 2010 and 2013). She joined the squad in 2005 as a 16-year-old and was Team Bath's longest-serving player which led to her induction into the University of Bath Sports Hall of Fame in 2017. Since 2017, she has played for West Coast Fever in the Suncorp Super Netball League in Australia. Stacey is also a Pride House Birmingham ambassador and vice-chair on the Netball Players Association. Stacey supports the Foundation with Athlete Services and other areas of governance. 
Biography
An award winning creative, commercial and communications director, Stacey has succeeded in delivering financial success, developing exceptional corporate teams and a marketing pioneer to boot. Currently a Commercial and Marketing Director for sports and entertainment agency CSM Live, along with a NED for the Rugby League World Cup 2021, when Stacey isn't in the board room she can be found practicing her martial arts and passion for sky diving! Stacey assists the charity with all areas of governance, predominantly supporting the Foundation with fundraising and marketing.