Rugby
Athlete Transition
Coventry Rugby Club Engages Players with Transition Training
Posted on: 22 January 2019 by Emily Lake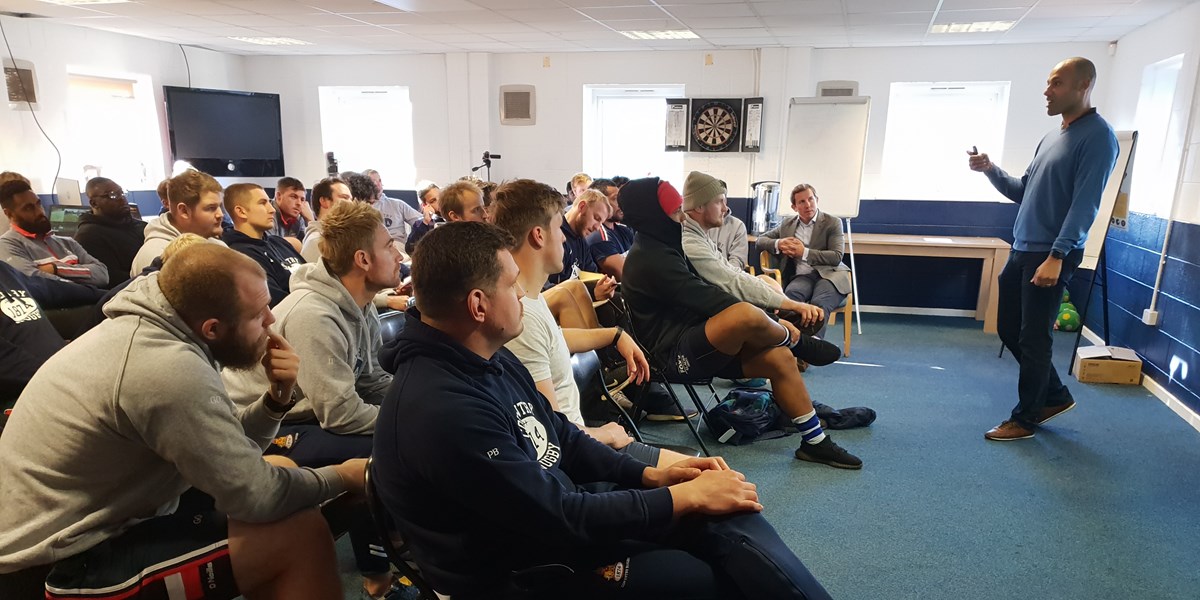 Coventry Rugby is investing in the future of its players by engaging the services of athlete transition experts, Switch the Play (StP), to deliver practical training on how to plan for life outside of sport.
Former professional rugby players, and Leicester Tigers' teammates, Leon Lloyd, CEO of StP, and James Grindal, Principal of Grindal Wealth Management, a Partner Practice of St. James's Place Wealth Management, have taught players how to overcome the challenges of transition, the importance of putting a plan in place and examples of how other athletes had achieved success.
Rowland Winter, director of rugby at Coventry said: "The advice and guidance from Switch the Play is invaluable to our playing squad. As a club, it helps us to be proactive in our commitment to support our players' personal development. The masterclass was a real success and acted as a catalyst for players to act immediately and start to plan their transition beyond rugby."
Both Leon and James have experienced transition out of professional rugby. Leon explains, "Many players have to completely change their careers when they finish playing professional Rugby and if there has been no prior planning or consideration, it can be a hugely daunting time.
"As a professional rugby player, I lost my job suddenly through injury and found myself forced into a situation I didn't want to be in. To survive, I had to learn a lot in a short space of time. I did this and today I am enjoying a new career but I would have done things very differently if I had been alerted earlier to the challenges I would face. In hindsight, there are many things I could have done earlier in my career to make the transition easier. This is why James and I want to teach other players how to plan for the future."
James now runs his own wealth management business and has discovered that many of the skills he honed as a professional Rugby player have played an important role in his subsequent success outside of sport.
James says, "It is very beneficial for young players to learn from those who have gone before them. Turning my experience into practical lessons for others is hugely satisfying and hopefully beneficial for them too."
Also supporting Leon and James with the presentation was Dan Leo, CEO of Pacific Rugby Players Welfare, an independent, not-for-profit organisation that supports professional and semi-professional players of Pacific Island heritage in the UK and Europe. Dan is currently training to become a StP associate and was able to share his own advice about preparing for life outside of sport.
The next session is planned for late February where the team will be undertaking 'The Brand of You' masterclass in which they will explore personal branding and what it means to them on and off the pitch.
For more information about Switch the Play masterclasses, please email emily@switchtheplay.com.