Golf
Golfing4Life stars benefit from Switch the Play Masterclass and Charity Perspective
Posted on: 08 October 2018 by Emily Lake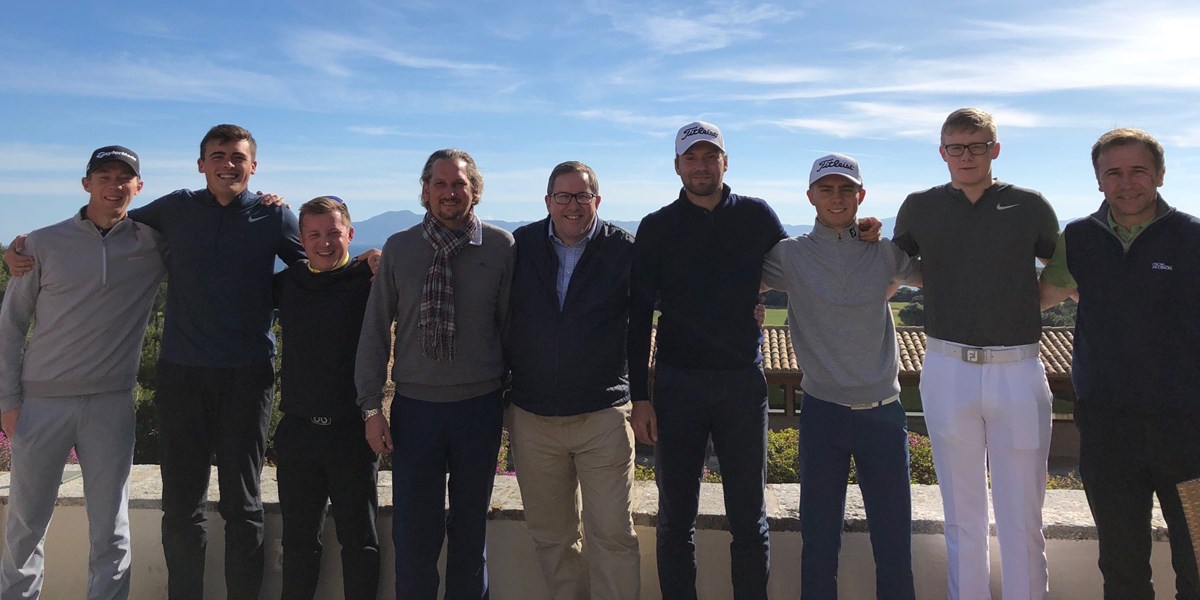 Junior Ryder Cup player, Conor Gough and nine additional Golfing4Life (G4L) players, including elite amateurs Tom Plumb, Calum Fyfe and Charlie Strickland, will learn the importance of personal branding and how to handle the business side of professional sport this week from Leon Lloyd, CEO of Switch the Play (StP) and former West Ham and Charlton manager Alan Curbishley.
The event has been made possible by a collaboration between sponsors; Under the Posts, The European Tour Foundation and hosts Centtrip, the pioneers of financial technology. The player's itinerary includes a StP 'Brand of You' masterclass which will be delivered by Leon Lloyd, and a presentation by former West Ham Manager Alan Curbishley, who will talk about the importance of dedication at the top level of professional sport. In addition to this, G4L has arranged a visit to the UCLH Teenage Cancer Trust unit in London where players will gain another important life education and perspective.
The following day golfers will visit the famous Matchroom boxing gym where they will see some of the UK's most talented boxers in action. Here, Tony Sims, the famous Matchroom boxing coach, will explain to players the importance of complete dedication and commitment.
The G4L initiative prides itself on providing support at the right time, whether that be life adversity, a loss of form or deselection. The structure at G4L provides a talent pathway which includes educational support and vocational opportunity.
G4L's Co- Founder James Byers says, "Leon and Alan are completely respected within their chosen spheres and will offer a real insight into professional sport. The hospital visit introduces players to our philanthropic core and the magnificent work undertaken at the Teenage Cancer Trust.
"Some of our players have unfortunate financial constraints or fought personal illness. Others have had to experience the loss of a parent or a separation in the family. We provide support mechanisms such as StP's education masterclasses, while our affiliation with the Teenage Cancer Trust provides a real illustration of the toughest of adversity."
Many of the players who have suffered disappointment either in sport or their personal lives, manage to regain their form, win national tournaments and enjoy reselection by their countries following the support structure at Golfing4Life. The Teenage Cancer Trust and StP are central to G4L's holistic approach and the development of some of the finest young talents in golf today.
During the Masterclass, young golfers will learn from Leon about how to handle the spotlight and attract the right attention when they reach professional status.
Leon explains, "It is encouraging to see an organisation like G4L working hard to support young athletes throughout their careers. Hearing expertise from Switch the Play, the highly respected football manager Alan Curbishley, and the revered Matchroom boxing coach Tony Sims, will really benefit the golfers. This type of personal development education should be made available to all young, aspiring athletes to enable them to learn valuable skills from those who have gone before them."
G4L 's co – founders Bill Curbishley and James Byers are very grateful for the ongoing support from all their partners and event sponsors.
If you are an organisation or an individual that would like to know more about StP's Masterclass programme, visit here.
For more information about G4L visit here.
For more information about the Teenage Cancer Trust visit here.