Duty of Care
Positive Transition
Scotland
Supporting Positive Transition in Scotland
Posted on: 25 October 2018 by Emily Lake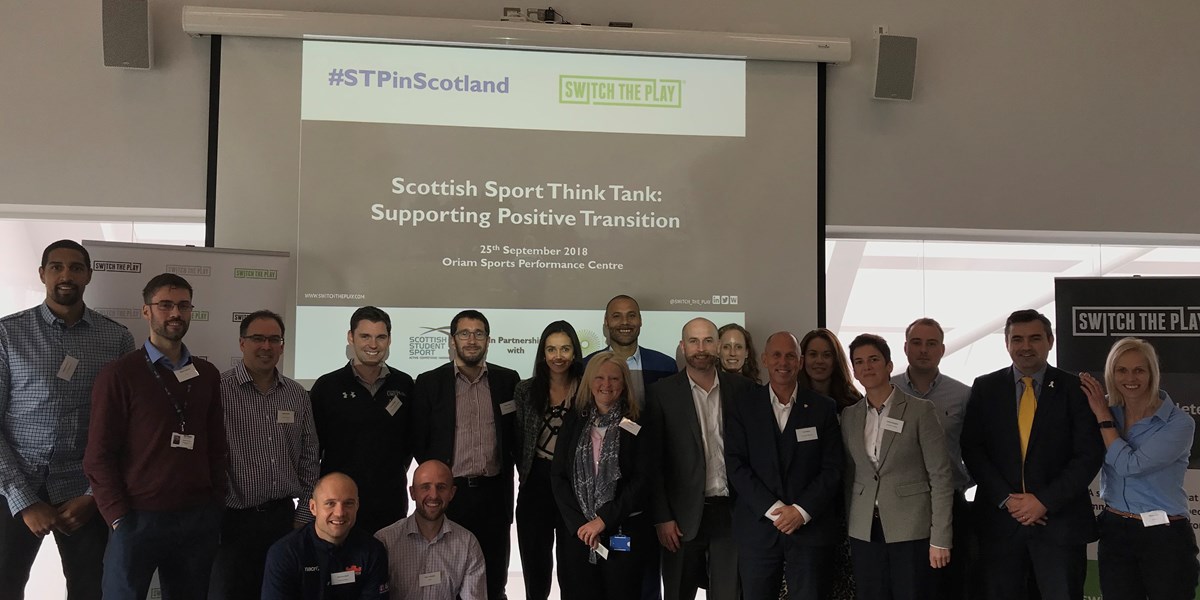 Scotland's leading sports professionals, influencers and academics gathered together at Switch the Play's Think Tank last month in Oriam Edinburgh, to share ideas on how to best support and prepare athletes for a positive transition.
Delegates agreed that Clubs could better help athletes help themselves by teaching life skills that build the foundation for a fulfilling life outside of sport. They concurred a culture change would be necessary to create an environment conducive to holistic athlete development and wellbeing, one which actively encouraged athletes to explore talents and desires outside of sport.
The Think Tank is part of Switch the Play's strategy to form a cohesive approach to athlete transition with experts from the UK sport landscape working together. It aims to create a robust framework of support that helps athletes become confident in their abilities both inside and outside of sport, enabling them to cope better when they exist elite level competition. The Duty of Care Report,written by Baroness Tanni Grey-Thompson, brought this important issue to the forefront when it was published in April 2017.
Heading the discussions was StP CEO, Leon Lloyd, former International rugby player, and StP Director, Emma Mason, a former Scottish International badminton player, both of whom experienced the struggle of leaving full-time sport.
Leon Lloyd explains, "The performance of our elite athletes on the world stage has improved dramatically over the years and Team GB is consistently achieving incredible results. There is no doubt it takes a huge amount of dedication to reach this level and increased funding has enabled many athletes to work full-time at their sport. However, the down side is that many athletes have little time for activities outside of their training and competition schedules, which doesn't help their emotional wellbeing or help prepare them for life when their sporting career comes to an end."
Delegates at the StP Think Tank agreed that coaches are key to an athlete's success, but that all stakeholders needed to drive an integrated approach to lifestyle, welfare and personal development at all levels and stages.
Leon explains, "An elite athlete's life is very regimented. Their entire day is time-tabled so they don't have to think for themselves. This does not help them when they retire from sport. It can leave athletes unprepared to full real life and facing a negative experience.
"Clubs and coaches can't continue to support athletes after they leave sport, so this duty of care needs to be applied as early in the career as possible. At StP we believe that better people make better athletes. We talk to sports people who acknowledge that taking part in activities non-sport related helps them to de-stress and cope with negatives such as a disappointing performance or a tough training schedule."
StP has developed a suite of Masterclasses designed to educate athletes and coaches on how to prepare for life outside of sport. Recently, StP partnered with St James's Place,a leading wealth management company, to create a new Masterclass on financial management.
Leon concludes, "There is no doubt the knowledge and expertise exists. What is missing is a compulsory framework that exposes every athlete to non-sport related education and training. We hope that by bringing together the best in UK Sport, we are taking a step closer to making this a reality."
If you would like to speak to Switch the Play about how it could work with you or your athletes, please email emily@switchtheplay.com.