Life Outside Sport
Athlete Transition
Trustee
England netball player amongst three new Trustees at the Switch the Play Foundation
Posted on: 25 May 2021 by Catherine Rees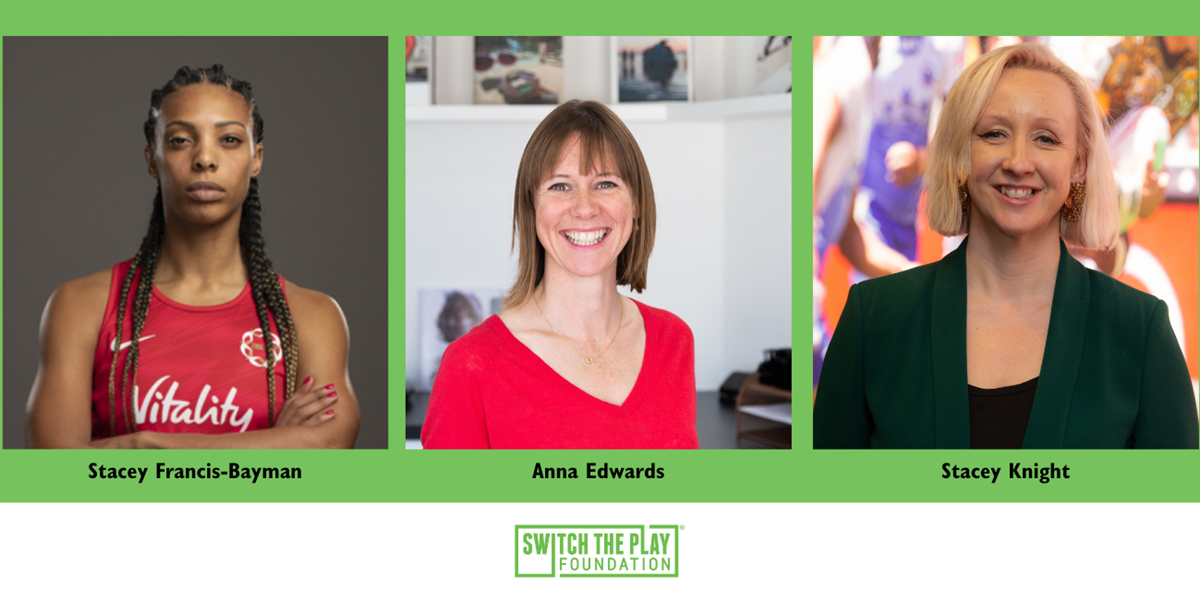 Today, the Switch the Play Foundation announces the appointment of three new Trustees, including England netball international, Stacey Francis-Bayman.
Also joining the charity's Trustee board are Anna Edwards, Managing Partner at Elite Performance Partners, and Stacey Knight, Commercial and Marketing Director for CSM Live.
The Switch the Play Foundation is the UK's only charity dedicated to supporting all sportspeople to successfully transition into life outside of sport. The Trustees are responsible for setting the charity's strategic direction and maintaining the vision, purpose and values of the Foundation. The new trustees join six existing Trustees on the Board, chaired by Craig Donaldson.
Stacey Francis-Bayman has been on the international netball scene since she made her debut for the Vitality Roses in 2010. With 73 caps to her name, she has also won two Vitality Netball World Cup bronze medals as well as another bronze at the Commonwealth Games in 2010. Since 2017, she's played for West Coast Fever in Australia. Commenting on her appointment, she said: "I am incredibly excited to have been selected to be a trustee for Switch the Play. As an ambitious professional athlete who is still competing at the highest level this is an exciting new opportunity where I hope to be able to bring my diverse personal and professional experiences to the charity to ensure that our programmes and support offering is always athlete centred and pertinent to meet the demands of the modern sporting transition."
Anna Edwards is Managing Partner at Elite Performance Partners, a performance and search specialist which provides consultancy, recruitment and coaching for sports organisations. "I came across Switch the Play when researching my Master's dissertation on athlete transition and was instantly impressed by the quality, breadth and importance of their work," she said. "Having got to know some of the team, I am thrilled to be joining them as a Trustee, and hope to share my experience from working in marketing, recruitment, and most recently, as a coach."
Stacey Knight is the Commercial and Marketing Director for CSM Live and a Board member of the Rugby League World Cup. She brings with her a wealth of marketing, communications and commercial experience in the sport industry. Commenting on her appointment she said: "I am utterly delighted and honoured to be named a Trustee of Switch The Play and look forward to joining a prestigious charitable organisation which makes a real difference in people's lives. Working within the sports industry myself, I believe in its power to help connect, drive and shape society and cultural values. However, the mental and physical challenges it can place at the end of individuals' sports careers raises many difficult questions about the duty of care we have to provide as a society. In line with this I truly believe we have a moral, strategic and cultural imperative to support, nurture and help."
The new trustees join just over a year since the Switch the Play Foundation became a registered charity in 2020. Despite the challenges facing the whole of the charity sector due to Covid-19 cancelling most fundraising events, since becoming a charity Switch the Play has launched two new services for sportspeople: a Mental Health Support service and a Career Pathways service plus delivered support to over 1,000 current and former sportspeople.
The full list of the Switch the Play Foundation Trustees can be found here.