Advisory Board
Sport
Transition
Volunteer
Switch the Play Foundation Announces New Advisory Boards
Posted on: 02 June 2021 by Luke Jennings/Charlie Belbin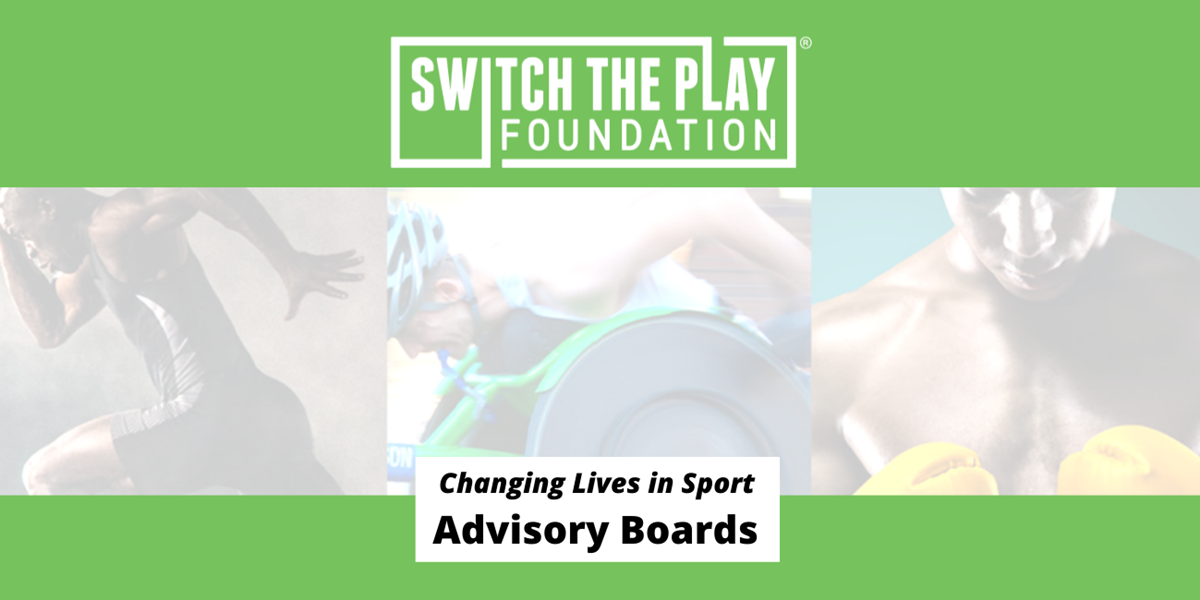 Switch the Play Foundation has set up 'Changing Lives in Sport' advisory boards to support the charity in its mission to empower all sportspeople to be their best through and beyond sport. 
Made up of independent volunteers from a mix of sporting and business backgrounds, the Changing Lives in Sport advisory boards will provide expert and objective advice to both the Executive Team and Trustees.
There are two advisory boards: one focused on Fundraising and the other on Athlete Services. Both will be chaired by a Switch the Play Foundation Trustee and include a member of the Executive.
Athlete services advisory board
The athlete services board will help with the development of current and new support to sportspeople, bringing insight from the world of sport and business to ensure all beneficiaries are given the confidence to transition to life outside of sport successfully. This board includes:
Beth Tweddle MBE - Switch the Play Foundation Trustee and Olympic gymnast. 
Emma Wiggs MBE - Paralympic Gold in Canoe and eight time canoe World Champion. 
Gemma Carter Morris - Director of Wellbeing and Client Relationships at Next Steps Consulting.
Helen Roberts - Head of Player Care at Aston Villa F.C. with a background in executive coaching and mentoring. 
Hugo Gulliver - Chief Coach at University of London Boat Club with experience of coaching international sportspeople.
Luke Jennings - Switch the Play Foundation Operations Manager. 
Lynsey Douglas - Head of Brands at Nielsen and an experienced sport and marketing professional.
Matthew Green - Elite Performance Manager at the Premier League and previously First Team Fitness Coach at West Bromwich F.C.
Rebecca Richards - High Performance Transition Coach at Locke in Purpose with experience of elite swimming coaching and providing mental health support. 
Rich Smith - Education Programme Manager at British Gymnastics and previously English Institute of Sport Performance Lifestyle Advisor for GB Boxing and GB Taekwondo.
Rob Young MBE - Switch the Play Foundation CEO and Greater Sport board member.
Stephen Mitchell - Switch the Play Foundation Trustee and founder of Sporting People and Sport for Confidence.
Tom Brown - Professional Rugby Player (Scotland, Edinburgh, Glasgow) and currently training for his commercial pilot's license.
New advisory board member Tom Brown said, "I am delighted to be joining Switch the Play Foundation as a Senior Volunteer on the Athlete Services Advisory Board. I have benefitted from the services which Switch the Play Foundation provide as a professional athlete. As I am encountering my own transition from professional rugby, I am passionate about the well being of all sports people, including future planning. I am looking forward to working closely with an exciting group of people on the Board whilst continuing to develop my own skills and experiences."
Fundraising advisory board
The Fundraising advisory board will support Switch the Play with the delivery and execution of its first fundraising strategy since becoming a registered charity last year. It will help Switch the Play raise crucial funds to enable the Foundation to continue to provide vital transition and wellbeing support services for sportspeople. This board includes:
Alex Laybourne - Deputy CEO for the charity Power2Inspire and Performance Lifestyle Mentor at Loughborough University.
Charlie Belbin - Switch the Play Foundation Fundraising Manager.
Chris McCormack – Experienced corporate fundraising and sponsorship partnerships professional with a portfolio career that includes business consulting.
Daniel Goodacre - Head of Strategy & Business Services at The Football Association, passionate about sports development at all levels of sport.
Ed Airey – Group Employee Experience Director at William Hill, with a specialism in colleague welfare and reward.
Georgie Dickins – Switch the Play Foundation Trustee and transformational coach to extraordinary leaders and ascending stars.
Grace McCatty – Sports development professional, currently working for Prince's Trust International and studying a PHD exploring sport as a tool for development in Zambia.
Mark Holman – experienced sport and business professional passionate about developing trusted relationships.
Rob Young MBE - Switch the Play Foundation CEO and Greater Sport board member.
Stacey Knight – Switch the Play Foundation Trustee and Marketing Director for CSM Live.
Switch the Play Foundation CEO Rob Young said, "I am really excited to be able to formally announce the appointment of our new Advisory Board members and to welcome them all to the Switch the Play team. This has been something that we have long had on our wish list to be able to do and it is brilliant to be able to make this a reality. The Athlete Services Advisory Board is incredibly important in being able to ensure that we are fulfilling our charitable purpose and making a positive difference to the lives of current and former sportspeople, whilst the Fundraising Advisory Board is critical in helping us to ensure that cost is not a barrier for sportspeople being able to access support. It is clear from having met the senior volunteers that we are really privileged to have found such a fantastic group of people who want to help contribute to our cause."